Despite having graduated from high school almost 14 years ago, I still have a resistance to wear lots of jewellery.  My high school was pretty strict about what we could and couldn't wear while in uniform.  No "shower curtain earrings" (i.e. what the headmistress at my school called big hoop earrings, still popular when I was in middle school back in the early 90s) no dangly earrings (okay, I had a small collection of non-regulation earrings to wear on grub (uniform-free) days and weekends, but even then I rarely wore them.  It was pretty much the same three pairs of studs) no necklaces (except for ONE religious symbol) and one class ring.  Bracelets were a no-no, as was anything that was too out of the ordinary.  You might think that I would have gone crazy when I graduated, but no, that didn't happen.  My collection is pretty much limited to a small charm necklace (two pieces of jade and a small heart, gifts from my parents and husband respectively), stud/keeper earrings, a bracelet and my wedding and engagement rings.

 Some pieces I like: What do you think?
I am changing that (or at least trying to).  I like wearing bracelets from time to time, though it's difficult to find decent ones that would fit my tiny wrists. And I avoid wearing too many (don't want to go the direction of Leandra from The Man Repeller.  As much as I respect her, the whole idea of an "arm party" is just a little bit too much for me.  I'm a more conservative girl, much to the chagrin of many fashion bloggers who probably think I'm crazy).  With necklaces, I have classic pearls and a diamond necklace that I would wear occasionally.  My day-to-day is, of course, my charm necklace.  I pretty much never take it off.  Earrings, however, I can't do other than tiny ones.  Bigger studs are too 80s power woman, shower curtain earrings remind me of the headmistress's speech (and not to mention inappropriate music videos).  I'm also getting into pins.  I saw some that I liked on ShopStyle and think it could be a great addition to some of my clothes, especially for the holiday season.  Besides, it'll spruce up my little black dress collection.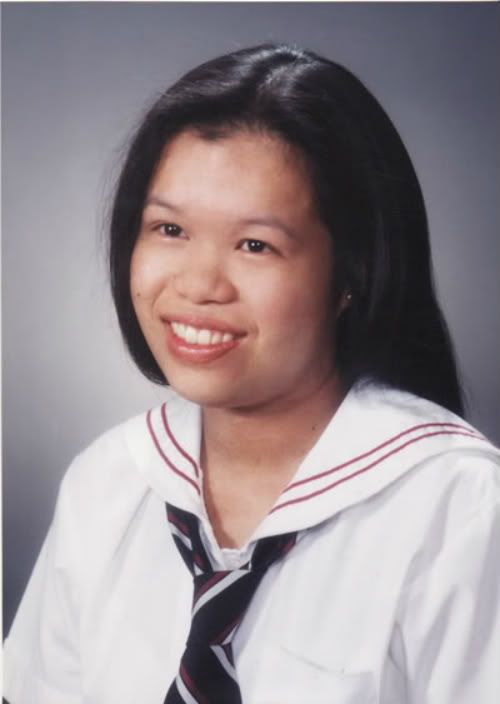 My high school graduation portrait, taken in the 1997-1998 school year. No jewellery (except for religious symbols, small earrings and class rings) was allowed to be worn

So readers, what about you?  Did you have a strict uniform code in high school?  Do you own a lot of jewellery? Any tips for starting a decent collection that isn't dowdy/granny-like?